Dominican Republic edges out valiant Gilas Pilipinas, 87-81
August 25, 2023 – Philippine Arena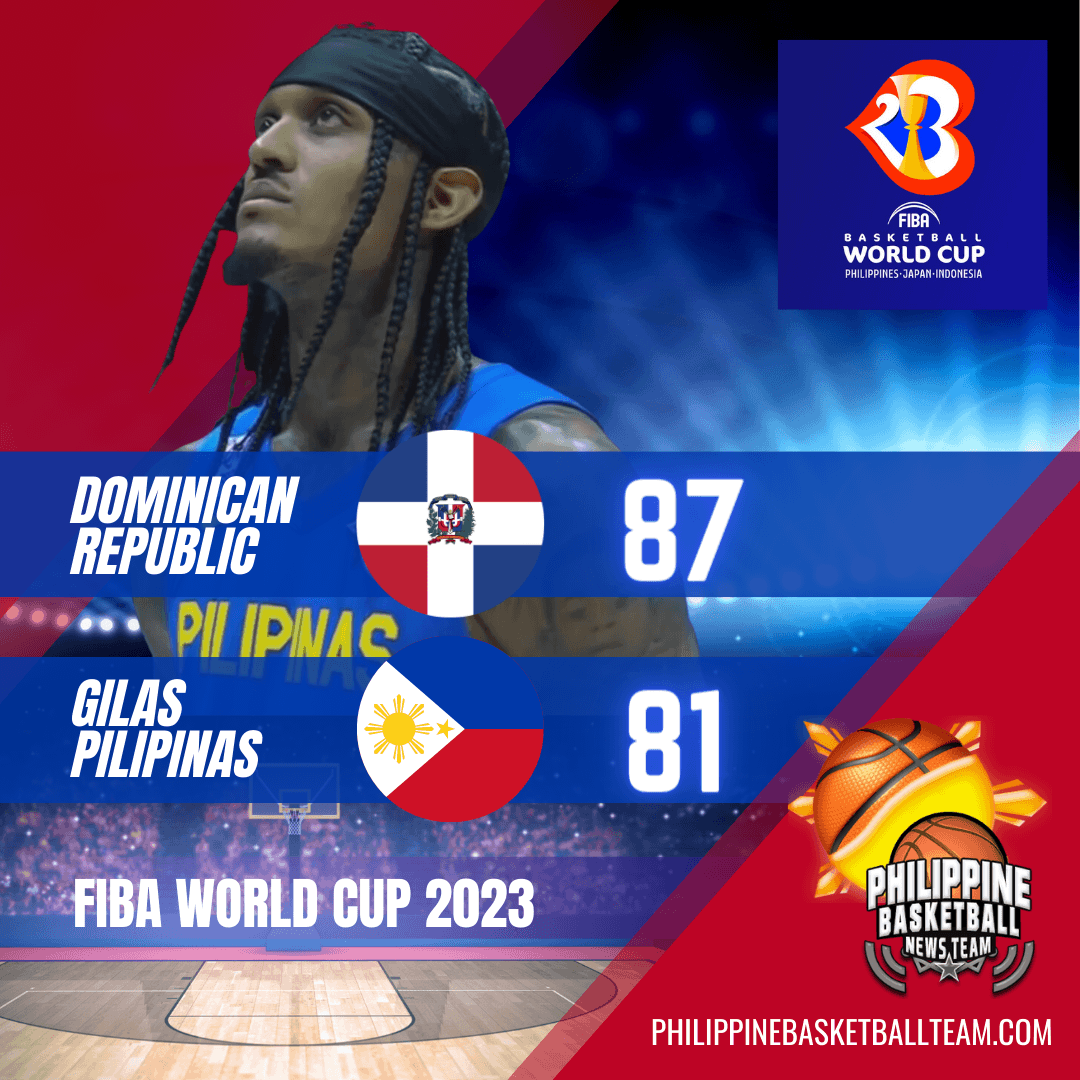 FIBA World Cup 2023: BOCAUE, Bulacan – Gilas Pilipinas put up a valiant fight but fell short in their first game of the FIBA Basketball World Cup 2023, losing 87-81 to the Dominican Republic in front of a record-breaking crowd of 38,115 at the Philippine Arena.
➤ NBA star Karl-Anthony Towns led the charge for the Dominican Republic, scoring 26 points and hauling in 10 boards, while guard Victor Liz had 18 points and 6 rebounds. Philippine NBA star Jordan Clarkson put up an impressive 28 points for the Gilas with 7 rebounds and 7 assists, while PBA legend Junemar Fajardo contributed 16 points and hauled in 7 rebounds.
➤ The Philippine basketball team led in rebounds, hauling 32 total to the Dominicans 26, but DR massacred them on the offensive boards, with the Dominicans enjoying a 17 to 3 advantage. The Dominicans also exploited Pilipinas basketball's turnovers, scoring 26 off 19 Gilas turnovers, and fared better in second-chance points, making 15 against 2 of the Philippines.
➤ Both teams were evenly matched throughout the game, but it ultimately turned into a rivalry between the NBA's finest. Despite Clarkson's monstrous 28-point effort, he fouled out in the waning minutes of the fourth quarter, with Karl-Anthony Towns prevailing over him. Gilas was down 79-76 with only 3:32 remaining when he was disqualified for an offensive foul. It came after several questionable calls that hurt Gilas' chances. In contrast, despite having shooting woes all night, Towns made most of his charity lane freebies, making 15 of 16 freethrow attempts.
➤ AJ Edu made a good account for himself, making a lot of key defensive stops to limit the effectiveness of Towns, while Kiefer Ravena also fared well in the minutes he was on the court, as did Dwight Ramos, who backstopped Gilas with 13 big points.
➤ The Gilas Pilipinas basketball team will next face a dangerous Angola squad that caused an early scare in their first-game loss to powerhouse Italy, 67-81. The tip-off between Group A rivals begins this Sunday at the Philippine Arena.
Quarters: 22-18; 42-42; 66-64; 87-81.
Posted on August 26, 2023 - Philippine Arena