Alaska stops Meralco, 104-102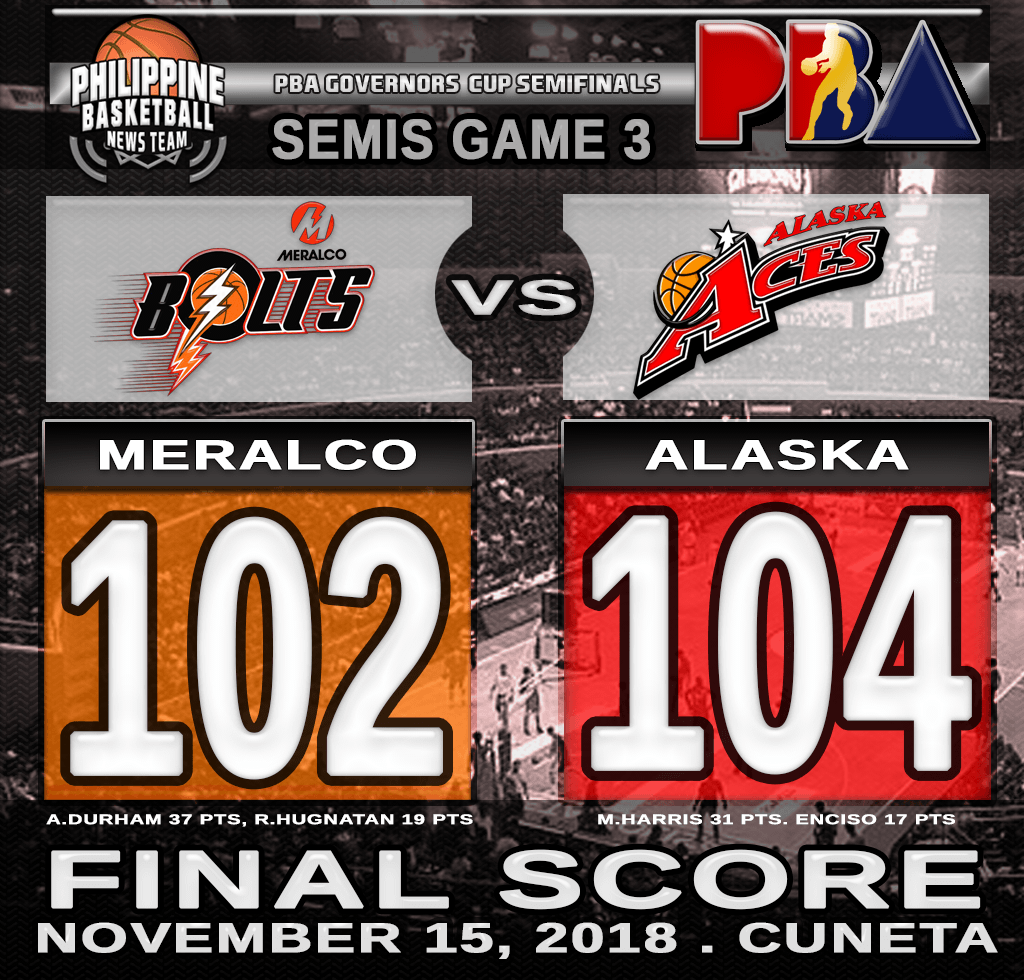 November 15, 2018 – Cuneta Astrodome
PBA Semifinals 2018: Alaska Aces stopped Meralco Bolts, 104-102 to lead 2-1 in Game 3 of their Semifinals tiff in the 2018 PBA Governors' Cup this Thursday at the Cuneta Astrodome. Import Mike Harris powered the Aces with his double-double of 31 markers, 24 boards, and 7 dimes. Simon Enciso and Chris Banchero also made waves by scoring 17 buckets each respectively.
➤ The Aces survived the potential game-winners from import Allen Durham who missed an uncontested layup, and Reynel Hugnatan who botched a put-back with the Aces leading 103-102 before the end of regulation.
➤ Alaska shot marginally better than Meralco from the trey territory, making 10 of 23 treys at 43%, against the Bolts 8 of 24 total (33%). Alaska also had better opportunities at the charity lane, converting 22 of 24 foul throws (91%), to Meralco's 12 of 19 freebies at 63% free-throws total.
➤ Durham had a monstrous 37 points, 13 caroms, and 8 assists performance, but it was not enough as the Bolts have now lost twice in a row to the Aces. Meanwhile, power veteran Hugnatan also finished with 19 points and 5 rebounds.
➤ The Bolts and the Aces will resume battle for Game 4 of their Semis showdown on Saturday, November 16 at the Cuneta Astrodome.
Quarters: 25-22, 47-53, 75-74, 104-102.
Posted on November 16, 2018 - Cuneta Astrodome