Serbia survives Gilas Pilipinas scare, 83-76
June 30, 2021 – Belgrade, Serbia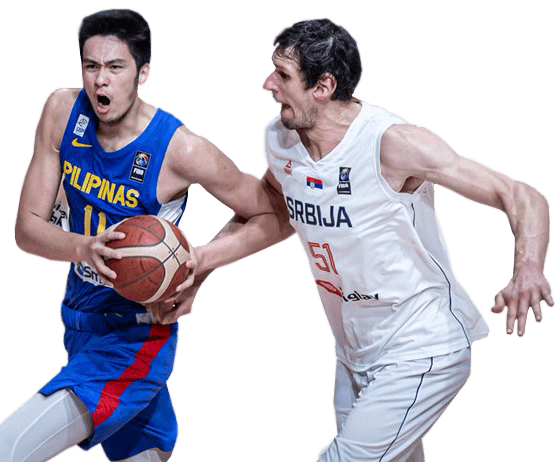 FIBA OQT News 2021: Serbia survived the gallant stand of Gilas Pilipinas, 83-76, this Wednesday at the FIBA Olympic Qualifying Tournament in Belgrade, Serbia. The game was dangerously close at crunch time as Gilas stole the lead, 73-74, with 3:50 left in the ballgame, but NBA star Boban Marjanovic's clutch buckets towed the Serbs past the fighting Filipinos.
➤ Marjanovic powered the Serbs with 25 points and 11 rebounds, while Ognjen Dobric netted 16 points – with 12 coming from three-point shots. Gilas Pilipinas, on the other hand, relied on Ange Kouame's 17 points and 7 boards.
➤ Three Filipinos contributed double digit buckets with Jordan Heading, Kai Sotto, and Justine Baltazar netting 13, 10, and 10 respectively.
➤ Serbia led big late in the game with a 61-47 advantage in the third quarter. Gilas, however, clawed back to tie the game in the 4th with a 67-67 score. Pilipinas could have taken the game in clutch after taking the lead 73-74, but failed to capitalize due to several miscues and missed offensive attempts.
➤ Serbia led in field goals with a 54% clip, while Gilas had 47%. The Serbs also dominated in the paint with 46 points against Gilas' 28.
➤ Pilipinas missed the services of its main star and scorer Dwight Ramos due to groin injury, while Serbia did not play Nemanja Bjelica due to a leg injury.
➤ It is worth noting that the Filipinos are bannered by collegiate and some high-school standouts with an average age of 22, while the Serbs are represented by NBA and Euro-League veterans.
➤ Serbian Pro League MVP Filip Petrusev admitted that Serbia had a hard time matching-up against the Filipinos as he stated, "(Kouame and Sotto) gave us a hard time, especially without Bjelica out there on the court. We were forced to play a bit small than usual, and they attacked us especially from the four spot. They are talented, no question – and they gave us their all."
➤ Philippines will next battle Dominican Republic this Thursday to stay alive in the FIBA Olympic Qualifying Tournament. 
Quarters: 22-16, 45-34, 67-62, 83-76.
Posted on June 30, 2021 - Alexander Nicolic Hall